Authors: Gu Jing,  Yi Haoan,  Zha Xu,  Kong Yanbo,  Jiang Weiyang,  Yang Fang,  Li Fan,  He Yongshu
DOI: 10.3760/cma.j.cn115989-20201012-00686
Published 2022-10-10
Cite asChin J Exp Ophthalmol, 2022, 40(10): 966-971.
Abstract                                      

 

[View PDF] [Read Full Text] 
Objective
To identify the pathogenic gene and inheritance pattern in a pedigree of congenital iris coloboma with congenital cataract.
Methods
The method of pedigree investigation was adopted.A pedigree of congenital iris coloboma with congenital cataract was collected by Yunnan Disabled Rehabilitation Center and the 2nd Afliated Hospital of Kunming Medical University in February 2020.Ophthalmic examinations were carried out on the female proband, her parents, her children and her husband, and the clinical diagnosis was made.Genomic DNA was extracted from peripheral blood samples collected from the family members.The suspected pathogenic gene in the proband and her husband was screened by whole exome sequencing and was identified by bioinformatics analysis.The amino acid conservation was analyzed by UGENE software.The impact of the mutation on protein translation was predicted using MutationTaster software.The pathogenicity of the mutation was assessed according to the American College of Medical Genetics (ACMG) Standards and Guidelines.Pathogenic gene and mutations were verified by Sanger sequencing.This study adhered to the Declaration of Helsinki.The study protocol was approved by the Ethics Committee of the 2nd Afliated Hospital of Kunming Medical University (No.PJ-2020-61).Written informed consent was obtained from each subject or custodian.
Results
The proband showed large iris defects in both eyes with only a small amount of observable iris tissue in the periphery, lens cortical opacity and posterior capsule opacification, accompanied by nystagmus.A novel heterozygous frameshift variation c. 415dupA (p.R139fs) was located in exon 8 of PAX6 gene, and the variation was conservative across multiple species.The variation was in the highly conserved region of PAX6 gene and caused the dysfunction of PAX6 protein.The variation was graded as PVS1+ PM2+ PP1, a pathogenic variation, based on ACMG guidelines.The pedigree was consistent with co-segregation, indicating that the novel variation was pathogenic.The proband and her children were diagnosed, but her parents were phenotypically normal, in accordance with autosomal dominant inheritance.
Conclusions
The novel frameshift variation c.415dupA (p.R139fs) on the exon 8 of PAX6 gene is responsible for congenital iris coloboma with congenital cataract in the pedigree.This is the first report of this novel variation in PAX6 gene.
Key words:
Iris diseases; Coloboma; Cataract; Pedigree; Genetic testing; PAX6 gene; Frameshift mutation; De novo mutation
Figures&Tables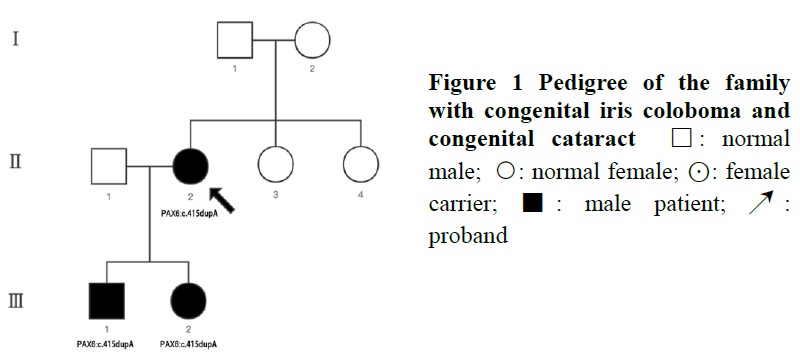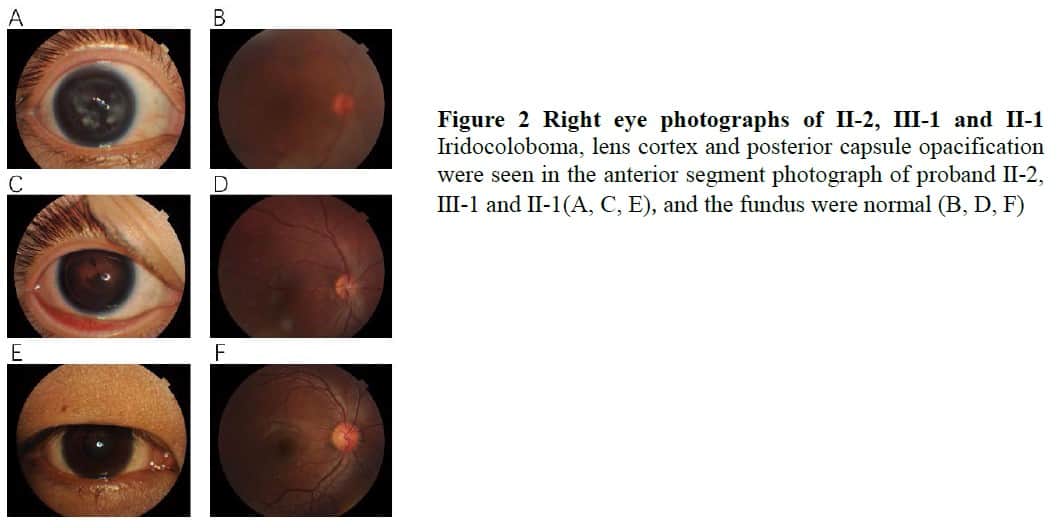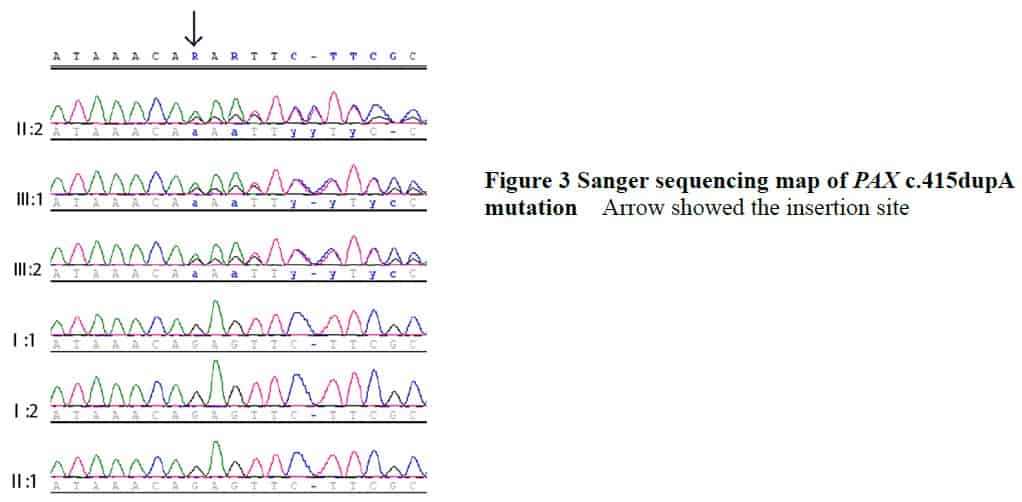 Contributor Information
Gu Jing
Department of Ophthalmology, Yunnan Disabled Rehabilitation Center, Kunming 650032, China
Yi Haoan
Department of Cell Biology and Medical Genetics, Kunming Medical University, Kunming 650500, China
Zha Xu
Department of Ophthalmology, the 2nd Afliated Hospital of Kunming Medical University, Kunming 650101, China
Kong Yanbo
Department of Ophthalmology, the 2nd Afliated Hospital of Kunming Medical University, Kunming 650101, China
Jiang Weiyang
Department of Cell Biology and Medical Genetics, Kunming Medical University, Kunming 650500, China
Yang Fang
Department of Cell Biology and Medical Genetics, Kunming Medical University, Kunming 650500, China
Li Fan
Department of Pathology and Pathophysiology, Kunming Medical University, Kunming 650500, China
He Yongshu
Department of Cell Biology and Medical Genetics, Kunming Medical University, Kunming 650500, China
(Read 52 times, 1 visits today)