Authors: Cai Suping,  Zhang Daren,  Luo Xiaoling,  Huang Longxiang,  Wang Tingting,  Xu Tingting,  Liu Xuyang
DOI: 10.3760/cma.j.cn115989-20210318-00184
Published 2022-10-10
Cite asChin J Exp Ophthalmol, 2022, 40(10): 914-919.
Abstract                                       
[View PDF]
[Read Full Text] 
Objective
To explore the clinical features and pathogenic causes of a Chinese Han family with Wagner syndrome, and to analyze the relationship between VCAN gene mutation and patient phenotype.
Methods
The method of family pedigree investigation was adopted.A Chinese Han family with Wagner syndrome in 3 generations including 13 family members was collected in Xiamen Eye Center of Xiamen University in January 2020, and 5 patients from 3 generations were diagnosed.All members underwent a comprehensive medical history collection and routine ophthalmological examinations, including visual acuity, intraocular pressure, slit lamp microscopy, and ophthalmoscopy to analyze the condition of anterior segment and fundus.Anterior segment photography, fundus photography, optical coherence tomography and ultrasound biological microscopy were carried out in the proband and some patients to analyze the condition of anterior segment, fundus and anterior chamber angle.The peripheral venous blood of all family members was collected for genomic DNA extraction, and pathogenic gene variation analysis for verification was through high-throughput target region capture sequencing and Sanger sequencing.Variants were scored using the American College of Medical Genetics and Genomics (ACMG) guidelines, and the structure and function of variants were predicted through PredictProtein.This study adhered to the Declaration of Helsinki.The study protocol was approved by the Ethics Committee of Xiamen Eye Center of Xiamen University (No.MR-35-22-002800).Written informed consent was obtained from each subject.
Results
The Chinese pedigree with Wagner syndrome was in accordance with autosomal dominant inheritance pattern, and all patients had no history of systemic disease or other abnormal manifestations.The common ophthalmic features of the patients were abnormal suspensory ligament, premature cataract, vitreous cavity, vitreous condensation, veil-like proliferative membrane in the vitreous cavity, retinal choroid atrophy and thinning, tractional retinal detachment, and retinal pigmentation.The proband had binocular cataract surgery, and binocular intraocular lens dislocation occurred after the operation.Genetic analysis revealed that a heterozygous splice site variation c.9265+ 1G>A in the VCAN gene in this family was co-segregated with the disease phenotype and graded as a likely pathogenic variant by the ACMG guidelines.This variant base pair substitution could cause the formation of a protein product with 1 754 amino acids shorter, resulting in insufficient haploid dosage and severe reduction of glycosaminoglycan attachment sites, making the versican protein dysfunctional.
Conclusions
It is the first time to report a Chinese family with Wagner syndrome in China, and it is confirmed that the family has a heterozygous variation in the VCAN gene c.9265+ 1G>A by molecular genetic analysis.
Figures&Tables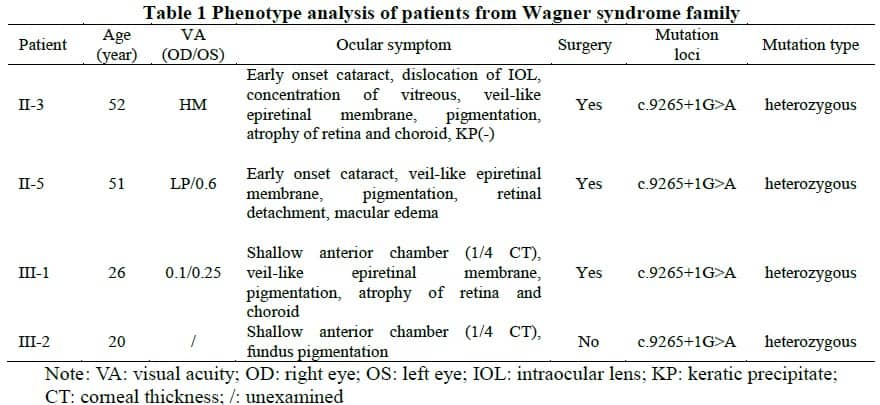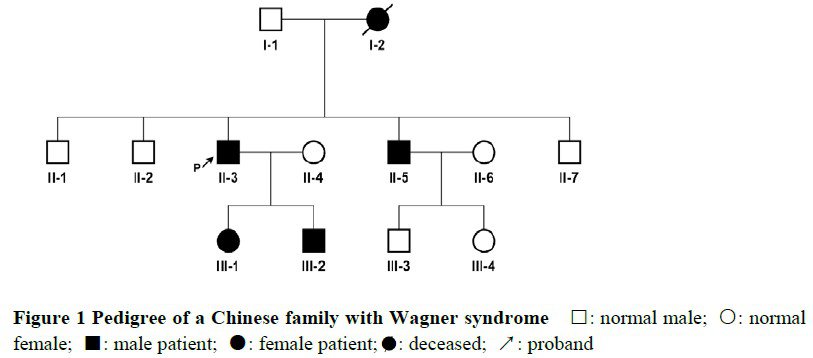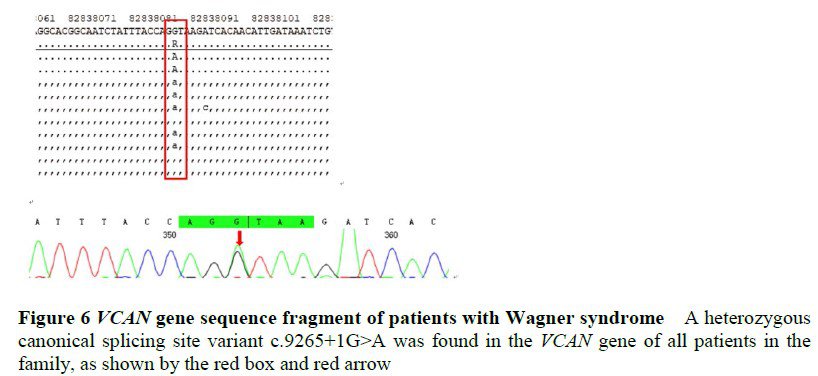 Key words:
Wagner syndrome; Vitreoretinopathy; Genetic analysis; Phenotype; Pedigree; VCAN gene
Contributor Information
Cai Suping
Shenzhen Eye Hospital, Jinan University, Shenzhen 518040, China
Zhang Daren
Xiamen Eye Center of Xiamen University, Xiamen 361016, China
Luo Xiaoling
Department of Ophthalmology, Shenzhen People's Hospital, Second Clinical Medical College of Jinan University, Shenzhen 518020, China
Huang Longxiang
Department of Ophthalmology, The First Affiliated Hospital of Fujian Medical University, Fuzhou 350005, China
Wang Tingting
Department of Ophthalmology, West China Xiamen Hospital of Sichuan University, Xiamen 361021
Xu Tingting
Department of Ophthalmology, The First Affiliated Hospital of Fujian Medical University, Fuzhou 350005, China
Liu Xuyang
Xiamen Eye Center of Xiamen University, Xiamen 361016, China
Department of Ophthalmology, Shenzhen People's Hospital, Second Clinical Medical College of Jinan University, Shenzhen 518020, China
(Read 35 times, 1 visits today)