Authors: Wang Jing,  Zhu Jianfeng,  Lu Lina
DOI: 10.3760/cma.j.cn115989-20200430-00300
Published 2022-10-10
Cite asChin J Exp Ophthalmol, 2022, 40(10): 902-907.
Abstract                                       
[View PDF]
[Read Full Text] 
Objective
To classify human adenovirus (HAdV) of adenoviral conjunctivitis by sequencing and phylogenetic analysis of hexon protein and fiber protein.
Methods
A total of 256 conjunctival swabs were collected from the inferior conjunctival sac of 256 patients with viral conjunctivitis in Shanghai from January 2015 to August 2017.After DNA extraction, the whole length of hexon and fiber was amplified by PCR to perform gene sequencing and phylogenetic analysis.The study protocol was approved by the Ethics Committee of Shanghai General Hospital (No.2020-202).Written informed consent was obtained from each subject.
Results
Among the samples, 89(34.76%) were positive for hexon gene amplification, including 1(1.12%) of HAdV-C1, 7(7.87%) of HAdV-C2, 20(22.47%) of HAdV-B3, 6(6.747%) of HAdV-E4, 23(25.84%) of HAdV-D8, 17(19.10%) of HAdV-D19, and 15(16.85%) of HAdV-D37.In phylogenetic analysis, sequenced hexon gene was clustered with the reference prototype correctly.In fiber phylogenetic analysis, 15 of HAdV-D19 and 1 of HAdV-D37 were cross clustered.
Conclusions
The combined sequencing of hexon and fiber can provide abundant and effective biological information for the subtype and pathogenicity analysis of HAdV.
Key words:
Adenoviruses, human; Conjunctivitis, viral; Hexon protein, adenovirus; Fiber protein; Sequence analysis; Phylogeny
Figures & Tables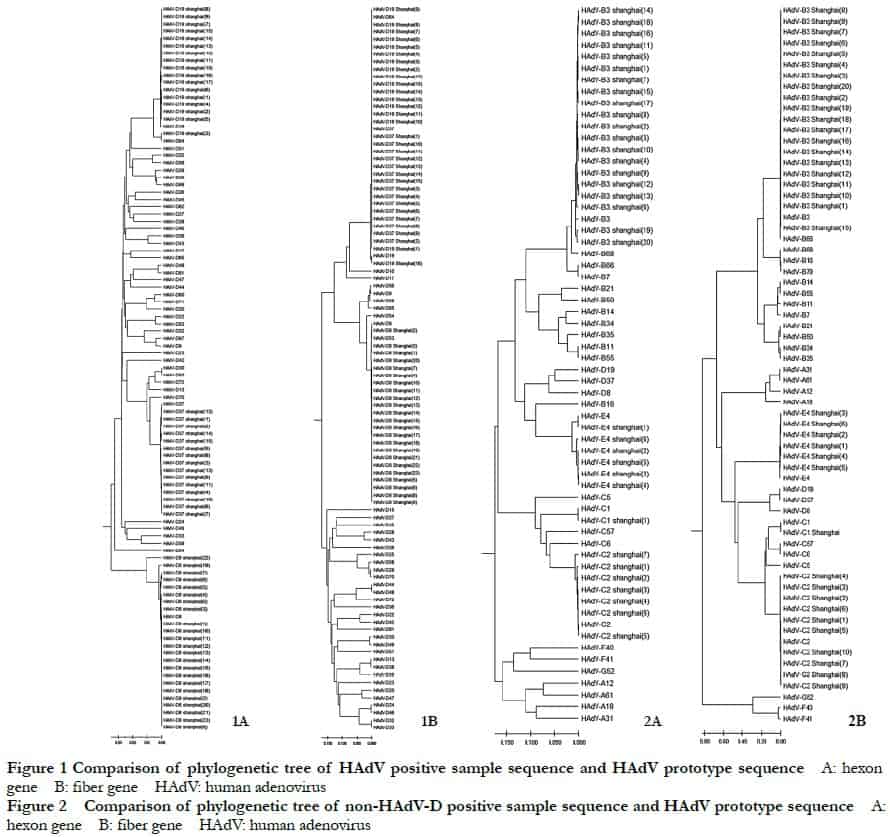 Contributor Information
Wang Jing
Shanghai Eye Diseases Prevention &
Treatment Center/Shanghai Eye Hospital, Shanghai General Hospital, National Clinical Research Center for Eye Diseases, Shanghai Key Laboratory of Ocular Fundus Diseases, Shanghai Engineering Center for Visual Science and Photomedicine, Shanghai Engineering Research Center of Precise Diagnosis and Treatment of Eye Diseases, Shanghai 200040, China
Zhu Jianfeng
Shanghai Eye Diseases Prevention &
Treatment Center/Shanghai Eye Hospital, Shanghai General Hospital, National Clinical Research Center for Eye Diseases, Shanghai Key Laboratory of Ocular Fundus Diseases, Shanghai Engineering Center for Visual Science and Photomedicine, Shanghai Engineering Research Center of Precise Diagnosis and Treatment of Eye Diseases, Shanghai 200040, China
Lu Lina
Shanghai Eye Diseases Prevention & Treatment Center/Shanghai Eye Hospital, Shanghai General Hospital, National Clinical Research Center for Eye Diseases, Shanghai Key Laboratory of Ocular Fundus Diseases, Shanghai Engineering Center for Visual Science and Photomedicine, Shanghai Engineering Research Center of Precise Diagnosis and Treatment of Eye Diseases, Shanghai 200040, China
(Read 27 times, 1 visits today)